Paper Backed
EKA1000F
F-Weight
1"-54" Wide
Pink and white aluminum oxide. White wood sanding of solid and veneer wood products. Most consistent scratch pattern providing best finish and uniform stain penetration with very long belt life.
P40-P320
Cloth Backed
RKXYEO
Y-Weight
Poly Extra Open Coat
1"-54" Wide
Brown aluminum oxide. Solid wood finishing, calibrating and high anti loading applications. These belts hold up very well in conditions where loading of the belt often occurs with poorer quality belts when glues, putty and veneer tape can collect.
P24-P150
Paper Backed
PKFH
F-Weight
Closed Coat
1"-54" Wide
Pink and white aluminum oxide. Ideal for finer finishing where stain uniformity and reduced sanding lines are a must.
P150 and P180
Cloth Backed
RKXO
X-Weight
Cotton Open Coat
1"-54" Wide
Brown aluminum oxide. A general use belt with harder grain designed for long life sanding at a lower cost with excellent finishing characteristics.
P40-P220
Paper Backed
EKA 3001
E-Weight
1"-54"
Silicon Carbide, Primer, Sealer and lacquer sanding
P180-P800
Paper Backed
EKA 3001
E-Weight
1"-54"
Stearated version of EKA 3001 to reduce loading. Silicon Carbide, Primer, Sealer and lacquer sanding.
P180-P1200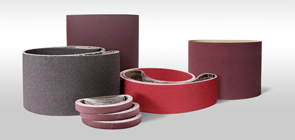 Flexible back compact grain combination designed for long life and fine finishing on metals.
Aluminum Oxide. Metal industries most recognized belt used for all applications. High-performance abrasive on a sturdy polyester or cotton backing for universal use. KK711X is characterized by a long service life.
Polyester Back P20-P80 Cotton Back P100-P400
Cloth backed ceramic belts designed for high rates of stock removal with longest lasting service life on metal.
Blend of Zirconia alumina. Self-sharpening effect for machining of tough work piece surfaces impresses with its aggressive cut and very high stock removal. A good service usage and a reasonable price.
Polyester (P24 – P120)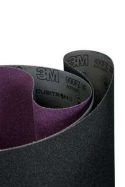 Technologically advanced strutted grain cloth backed products designed to produce the finish finishes on metal and high gloss paint applications. Long service life and excellent anti loading properties.
Often referred to as longest lasting abrasive mineral know to human kind! Superior stock removal and finishing with excellent service life. CUBITRON also available in a variety of other 3M products including DISCS and other metal working products.
Worlds original surface conditioning material invented and perfected by 3M. Longest surface life and best finish on metal applications. The gold standard in metal surfacing conditioning.

Most popular cloth backed aluminum oxide belt for woodworking.
Blend of aluminum and zirconium oxide designed for extended surface life on wood and metal.
Most commonly used family of paper belt with aluminum oxide with excellent service life and competitive pricing